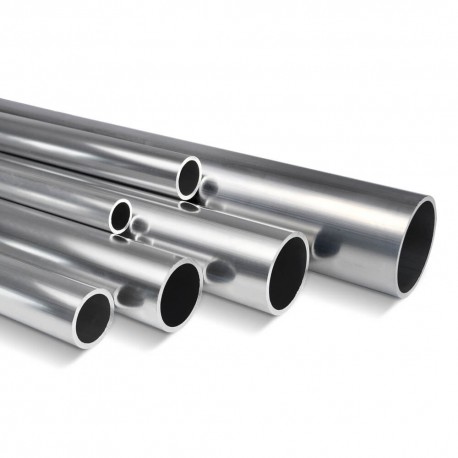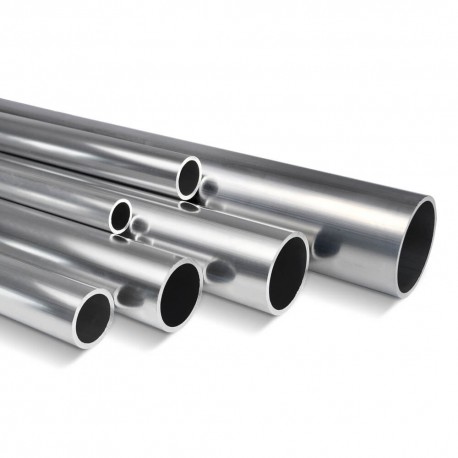  
Aluminum Tube - 33.7 x 3.0 mm
Reference: AB337
 In stock - dispatch in 48h
Πώς να παραγγείλετε το μέγεθος στόχου
Εισάγετε το μήκος (σε cm) π.χ. 100 cm
Εισάγετε την επιθυμητή ποσότητα, π.χ. 4 (τώρα παραγγέλνετε 4 σωλήνες των 100 cm)
Κάντε κλικ στο "Προσθήκη στο καλάθι"
Επαναλάβετε τα βήματα για να παραγγείλετε πολλά μήκη σωλήνων.
The Trusted Shops Buyer Protection
Certified online shop with money-back guarantee

KLEMP aluminum round pipe, ALU Ø 33.7mm x 3 mm L: 1000mm (100cm) | construction pipe aluminum quality standard EN AW-6060 T66, Raw, Untreated, Hollow Profile


The range of pipes consists of galvanized steel pipes and aluminum pipes. These pipes have a standard commercial length of 6 meters, but we will be happy to cut them to the required length upon request. Both the galvanized steel tubes and the aluminum tubes are available in 6 sizes, from ½ " to 2" and usually available immediately from stock.


DELIVERY: 1x aluminum pipe - Ø 33.7 mm x 3.0 mm in the selected size , For dimension C (33.7 mm), Material: aluminum EN AW-6060 T68 , Coating: raw aluminum , Production standard: EN AW-6060 T66 , Size in inches: 1" , Color: Silver , Tube diameter: 33.7 x 3 mm , Tube wall thickness: 3 mm


HIGH QUALITY


MULTIFUNCTIONALITY Free design of any structure without welding or threading, for example, for shelves, railings, outlets, exhibition construction, playground equipment, steel structures, handrails, railing construction, scaffolding. With tube connectors you can easily and cost-effectively build various constructions. Our tube connector is easy to assemble and disassemble with Allen key, reusable, temporary and permanent.


Data sheet
Size mm

C (33,7 mm)

Size "

1

Material

Aluminium EN AW-6060 T66

Colour

Aluminum silver

Colour

Silver

Coating

Raw aluminium

Wall thickness

3 mm

Weight

0.78 kg/mb

Cut to size

Yes

Minimum length

50 mm

Maximum length

6000 mm

Type

Tube

Diameter (mm)

33,7 x 3

Production Standard

EN AW-6060 T66
| | | | |
| --- | --- | --- | --- |
| | Average delivery times to Germany and Austria | Average delivery times to other European countries | Shipping company |
| Pipe connectors | 2 to 3 working days* | 3 to 5 working days* | DPD / GLS / UPS |
| Pipes up to 120 cm | 3 to 5 working days* | 4 to 7 working days* | DPD / GLS / UPS |
| pipes 120-220 cm | 4 to 6 working days* | 4 to 7 working days* | Mainfreight |
| Pipes 220-300 cm | 5 to 7 working days | 4 to 7 working days* | Mainfreight |
* Because it is difficult to estimate the workload in our warehouse and carriers, the delivery time is an estimate. Due to delays in some payment methods, such as bank transfer and instant bank transfer, delivery time may be extended with a few business days. We cannot guarantee the delivery times.
Are you in a hurry? Please contact us. We will see what we can do for you
For over ten years, we have been one of the most reliable partners throughout Germany and Europe when it comes to your projects with pipes and pipe connectors. You will find a comprehensive selection of various steel pipe connectors in our online store, all of which are of course TÜV-certified.
Our pipe connectors have a diameter of 21.3 mm, which are perfect for particularly strong connections with a screw load of six hundred kilograms at a torque of 40Nm. In this case, the pipe connectors are fixed by an Allen screw. In this way, any desired construction, whether sophisticated or rather simple, can be perfectly realized - the possibilities are almost endless, as the selection of different types of pipe connection makes almost anything possible, it does not matter whether you are working with aluminum pipes or galvanized steel pipes, as long as the appropriate diameter is maintained.
Take a look around our site to get a good idea of what is possible with pipe connectors.
Our comprehensive assortment offers not only steel tubes, aluminum tubes and TÜV-approved tube connectors, you will also find a wide range of hooks, clamps and swivels as well as various connectors ( tubeclamps, fittings, etc.) for your project.
We deliver directly to private and business customers through our online store.
If you have any questions or something is unclear, please do not hesitate to contact us.
5 other products in the same category: