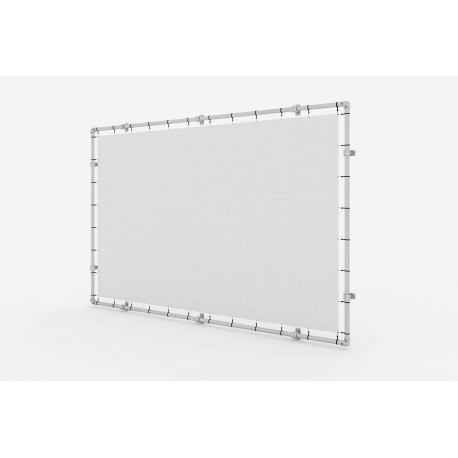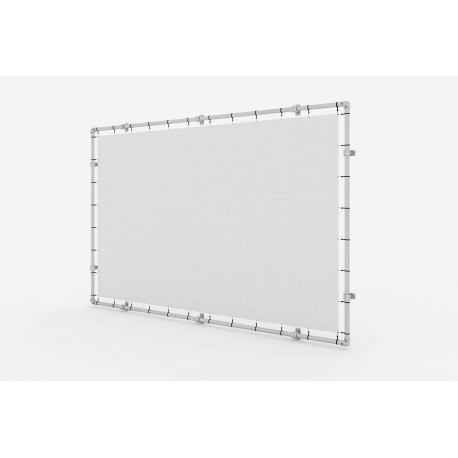  
Wall Mounted Banner Aluminium Tension Frame
Reference: KLEMP-WALL
 In Stock - Shipping in 2-5 days
Wall Mounted Banner Advertisement - Aluminum Stretch Frame System for Outdoor Use
The Trusted Shops Buyer Protection
Certified online shop with money-back guarantee

Wall Mounted Banner Advertisement - Aluminum Stretch Frame System for Outdoor Use


Frame Installation: The banner frame can be easily installed on metal, wood, block, brick & stucco exterior walls. The aluminum frame is lightweight and easy to hang. 
Banner Installation: Once the frame is installed, installing your banner into the frame is easy. Smaller banners can be installed by one person however we recommend installing with the help of a second one. 
Use these frames to eliminate "waviness" and make your banners perfectly "flat" for a clean, professional appearance. Tensioned springs hold banners tight as a drum
Designed for outdoor use - fully weatherproof. Maximum resistance to all weather conditions. 100% non-corrosive aluminum

The complete Klemp banner frame, made of aluminum pipes are connected using special connectors. There are no special skills or tools required to mount the construction. The connectors are simply applied to the pipe and tightened with a hexagonal wrench. The construction is fixed to the wall with wall brackets, which are also included. The whole is light, durable and looks very aesthetically, which distinguishes our product above all from solutions of other companies. If you are looking for a solution to professionally display banners on a regular basis, this is the perfect solution to make your banner look like a permanent sign. The Banner Grip Frame can be easily installed permanently on the side of your building, school, sports complex, etc. Once installed, the Banner Grip Frame keeps your banner tensioned and nice looking for the duration of your promotion, even in windy conditions.
Banner Frames are a great way to display your banners outdoors. These banner frames display your banner with a clean professional appearance and provide security with a fast and easy design for changing graphics mounted to your business wall. You can custom order your frames to any size no matter how large!

These outdoor banner frames are heavy duty durable aluminum framing systems, that can be used as outdoor banner signs for your store, restaurant, dealership, or service location. Use these banner frames to deliver your message at day and night. The Klemp System Frame used on these outdoor banner frames makes it easy to change your banners no matter how big they are. The Klemp System Frame and Klemp mechanisms eliminate the need for a professional installer if you would like to exchange your banner regularly without any expense and hassle. The custom banners can be designed and printed by us at virtually any size. Klemp System Frames allow you to display your custom banners in a durable professional and upscale manner.

Klemp System Frames are a flexible solution to your outdoor banner frame needs. These banner frames are made with high quality aluminum frame rails. Each frame is cut to order, and no order is too large or too small. Use Klemp System Frames for a professional looking and an easy to use aluminum banner frame. The graphics department will inform you about the various options and sign prices for designing and printing your signs for special outside use. You can cement your company's brand with signature colors, images and graphics designed for your company.
Banner Frames are an incredible way to create instant billboards on empty buildings, walls and truck spaces. They can literally create monthly advertising revenues from nothing, with the right visibility and media.

How Easy Is It To Change A Banner?
The ability to change media in a banner frame is very important. It affects every aspect of the job including labor costs, media costs, and your ability to compete in the marketplace. The easier a banner frame system is to install and change, the faster you will be able to complete a job at a more competitive price.

Outdoor Banner Frame System for displaying Banners on Buildings and Walls. You will never have a sagging banner again. The frame can be changed out for special event banners or sponsored advertising.
It allows displaying giant banners on buildings with the sleek aluminum frame looking professional.

Tensioners are used to professionally tension the banner inside the frame. The tensioner is made of elastic cord and ends with a hook. The rope inside the hook is clamped with a special clamp. We have 2 types of tensioners on offer. Standard tensioners that create a space of 8 cm between the banner and the inner part of the frame, and sztormfix tensioners, which are stronger and the space between the banner and the frame is only 3 cm. Differences between the tensioners can be seen in the pictures.
Data sheet
Construction type

Wall construction

Mounting

Standard wall mounts

Construction colour

Silver

Banner tensioners

Without tensioner

Banner

Without banner

Purpose of the construction

For banner advertising

The set contains

Complete construction (profiles, brackets, connectors)
2 other products in the same category: